Dear Gardener
With the children going back to school September mornings have a real autumnal feel but it is a great month for the garden with lots of fruit and vegetables at the peak of production, so you should be keeping busy harvesting and eating the fruits of your labours.
The gardening year got off to a very slow start with cold and rain dominating, but then – voila – we had a summer! Seems like the first one for years and I for one took advantage with lots of time spent enjoying the garden rather than working. So the weeds occasionally got a bit ahead of me but when I was sitting in the sun with glass in hand and the smell of the barbecue wafting over - it didn't bother me one bit!
I'm hoping September is going to continue to bring settled weather and one thing's for sure it will bring you our latest catalogue! I hope you'll find some quiet time to sit and have a look inside I'm sure there will be some great new ideas as well as your own personal favourites to tempt you for next years growing.
Happy browsing!
Time is moving on for your Autumn planting Onions, Shallots and Garlic order to make sure it arrives ready for planting in October or November. We have some really great Garlic varieties and they will all produce good sized bulbs with lovely plump cloves. Carcassone Wight is a new pink-cloved hardneck garlic with good skin cover. It has a strong flavour and an exceptionally fine aroma. Radar remains the most popular overwintering onion closely followed by Senshyu Yellow and Red Cross and our new variety Shakespeare has good resistance to bolting. The red shallot Biztro will give you really uniform red bulbs with delicious pale red flesh, Yellow Moon is always a reliable shallot and along with Biztro has good resistance to bolting.
Don't forget to order your Broad Bean Aquadulce Claudia for sowing next month, this is the best autumn sowing variety to give you the earliest Broad Beans next spring. If you have a smaller garden Broad Bean The Sutton may be the best variety for you, it is more compact and can be planted closer together. Don't forget these are all available as Young Plants too if you prefer ready to plant for overwintering too.
Sowing Pea Douce Provence now for overwintering will give you the earliest crops next year and is such a brilliant variety you can grow it just about all year round!
If you've made some space after harvesting your potatoes you could be quick and get some extra crops in now while we're still having some mild weather. For an ultra-quick crop sow Perpetual Spinach for overwintering leaves and Turnip Tiny pal can give you a crop of delicious baby turnips. Rocket is another very quick crop and Bright and Spicy Salad Mix will add some zest to your late summer and autumn salads.
While the soil is still warm sow Winter Lettuce, Carrots and Spring Greens under Cloches or Fleece for an earlier crop next spring. Oriental vegetables such as Chinese Cabbage, Mizuna, Mustard and Pak Choi can also be sown and grown under protection now.
All the varieties suggested here will thrive in Gro-Beds and they're virtually indestructible too and will last for years! No need to change the compost if you are re-planting just remove all the old plant debris from previous plantings and mix in a bit of General Purpose or Slow Release Fertiliser, top up with fresh compost and you're good to go again.
If you have empty vegetable beds after the harvest grow 'Green Manures' instead of leaving the bed empty. These plants suppress weeds, protect soil from erosion and loss of nutrients and add structure. Weed and rake your cleared beds and sow, these plants grow quite quickly, some may be killed off by frost but if left in the ground will continue to give the soil some protection. Dig in before they run to seed at least 2-3 weeks before replanting in spring. This will allow the breakdown of the plant material into humus, releasing nutrients slowly over the next growing period. Field Beans, Mustard and Phacelia can all be sown now.
Caliente Mustard is not just a green manure it also acts as a biofumigant for the soil, suppressing soil borne pests and diseases by releasing naturally occurring compounds. It can be sown in late summer for a quick crop or in autumn to over-winter in milder areas and can also be sown in spring.
If you enjoy growing flowering plants as well as vegetables then have a look at the Spring Flowering Bulb offers on the website, there are some great varieties to suit all types of garden - nothing says spring like a vase full of cheerful daffs! Grow some near the veg plot for picking to brighten your home in springtime.
If your borders are beginning to look a bit jaded order some Autumn Bedding plants such as Violas, Pansies or Primulas to bring a bit of freshness and colour to your beds, borders and containers when your summer bedding plants have finished.
Tips for the garden...
Harvest main crop potatoes by the end of September, cutting down the haulm (stems) 10–14 days before lifting will help 'set' the skins. Try to remove all the tubers so you don't get volunteer potatoes popping up next year among your beans or cabbages! Once lifted allow them to dry on the soil surface to further 'set' the skins and help prevent any bruising as they are lifted. Check the crop and only store sound tubers any that are damaged should be used first, if they are stored they may allow infection into the damaged area and spread to your whole crop. Potatoes are best stored in Hessian Sacks as these allow air to circulate and prevent sweating. Store them in a cool, dark place such as a shed or outhouse.
If you still have Tomatoes ripening cover them with fleece at night to keep them cosy and ripening right through the month. If the weather turns cold, cut off the whole vine and hang it in the greenhouse where the Tomatoes will continue to ripen. Alternatively harvest the unripe fruit and place in brown paper bags where they will ripen slowly. If you want to speed up this process pop a ripe banana in a bag with some Tomatoes and they will ripen much quicker as the banana gives off ethylene gas which promotes ripening of fruit.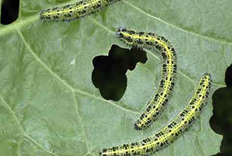 Cabbage white butterfly is still a big problem during late summer and the devastation it causes to Brassicas in unbelievable! We all know that the best way is to remove all the caterpillars and eggs as soon as they are seen, but if you don't have time to look at your plot for a couple of days it can be decimated by the little critters! A good spray with PY Insect Killer should do the trick but you need to make sure you spray both sides of the leaves as the spray needs to come into contact with the pest.
I prefer to cover my crops with Insect Netting as soon as I plant out, as this prevents the butterflies getting near the crop. Make sure the net isn't touching any leaves or the butterfly may still manage to deposit a few eggs through the net onto the leaves! If you use Extra Fine Insect Barrier Net it will protect against all flying insects, including very small ones such as brassica and carrot root fly and whitefly that can soon devastate your crops.
Once the foliage has died back on your Onions and Shallots, lift them and allow to dry naturally before stringing together or storing in nets in a cool, dry and airy place. Use those with thicker necks first as they may not store as well and could develop neck rot.
Don't forget to give trench Celery and Leeks a final earth up until just the leaves are showing, this will blanch the stems and also give protection from the cold.