It only takes a couple of hours of sun to brighten a November day and nudge you outside to do a bit of tidying up as we head into the deeper and darker days of winter. I'd much rather be out in the garden or browsing the catalogue planning for next years garden than trawling shops overflowing with Christmas fare, it may be just around the corner but I'm just not ready to think about it too much yet.
Just in case you're not quite so 'Bah Humbug!' as me at the moment there are some great gift ideas on the website - from the decidedly quirky to the most robust and must-have garden accessories – I might even get round to ordering some myself!
Happy present hunting
There is still enough time to sow Broad Bean Aquadulce Claudia and Pea Douce Provence - they are tough enough to come through the winter. The new variety De Monica can also be sown in autumn, the plants have a strong upright habit with 2-3 stems per plant. Pods contain 5-6 large white flavoursome beans and are held off the ground so are kept clean and easy to pick, they are on offer at the moment too - buy one packet get one free! If you live in a very cold area or have trouble with mice, sowing your broad beans and peas in pots in a cool greenhouse, can give a more reliable germination. Sow one seed per 7cm (3in) pot or in Rootrainers filled with multipurpose compost. Water in and keep in a cool but frost-free place. Do not grow in a heated greenhouse as they need cool conditions and will fail to germinate if it is too warm.
November is an excellent time to be planting new fruit trees and bushes, plants are dormant and can be planted anytime from now until March provided the ground is not too wet or frosty. Although plants are dormant underground they will be actively growing in the soil putting out new roots to give you a strong healthy plant in spring. There are trees to suit every garden including Apples, Pears, Cherries, Plums and more, growing your own fruit to eat straight from the plant is an experience second to none! You don't need a huge garden fruit needs to be planted from autumn to early spring while dormant so now is the perfect time to begin growing them in your own garden. Raspberries, Strawberries, Blackberries, Gooseberries and Currants can all be planted now and they will grow happily in most soils given a sunny spot but a bit of preparation beforehand will reap dividends for your future crops.
Make the most of a cold frame or greenhouse by sowing quick growing salad crops to over winter. Imagine nipping out over the Christmas period to pick your own salads! Try Lettuce Winter Density and Bright and Spicy Salad Mix, or try quick growing Perpetual Spinach! Much more satisfying than opening a bag of allegedly 'fresh' salad leaves from the supermarket that have been washed in goodness knows what to stop them going limp! Gro-Beds are perfect for over-wintering in a greenhouse, enabling you to maximise the space giving lots of winter salads and early spring crops.
The best Garlic needs a long growing season and a good cold period for the cloves to develop properly, so there is still plenty of time to order your Autumn Planting Garlic Bulbs. If you don't have space in your veg plot just yet there is also a very good selection of Garlic for planting in early spring. If your harvested onions are nicely dry store them in onion nets to allow good airflow and keep them dry. Or you can plait them by the stems and hang them strung together in a cool airy place.
Autumn is a good time to plant hedging and shrubs while they are dormant.
Hedges within gardens create a softer, more wildlife friendly boundary and can provide a great seasonal display of flowers, berries and autumn colour. Even a small hedge can create your own little wildlife habitat. They can be close clipped or left a bit wilder, a mix of native varieties will give different periods of interest and a good nesting and winter food source for birds. Whether you want a formal hedge such as Buxus, Privet or Copper Beech or wildlife friendly Hawthorn, Blackthorn or Hornbeam they all benefit from an autumn planting and look so much better than a wooden fence!
Tips for the garden...
Prepare the ground before planting your soft and top fruit by thoroughly working the area to remove all weeds including their roots and dig in as much well rotted organic matter as possible. Summer fruiting Raspberries will need the support of stakes and wires as they grow and it is best to put these in place in advance of planting to avoid accidental damage to your young canes. When planting any Soft Fruit – Strawberries, Raspberries, Blackcurrants, Blackberries or Gooseberries – make sure the hole is large enough to spread out the roots and is a depth of just above the existing soil mark on the stem. This will encourage better root growth. Using Rootgrow Mycorrhizal Fungi as you plant will give plants a really good start. It helps plants to establish quicker, grow better and the mycorrhiza will be effective throughout its life. Rootgrow is endorsed by the Royal Horticultural Society too!
Tidy up your plot remove all yellow and dead leaves from over-wintering brassicas and lightly fork over adding plenty of home-made compost, Organic Extra or leafmould to rot down over winter encouraging worm activity to help aerate your soil. Empty and tidy the greenhouse and removing any old dirty pots and clear up any lingering bits of rubbish and old compost as all these can harbour pests and diseases which will be ready to pounce on your precious plants as soon as the weather warms up in the spring. Give the glass a good clean to get rid of algae etc allowing more light to be available especially if you are over-wintering frost tender plants in the greenhouse. Citrox is a powerful concentrated organic disinfectant for cleaning greenhouses, pots, staging, tools and seed trays. It doesn't harm plant material in any way so may also be used to disinfect water for washing cuttings, bulbs and corms. It is pleasant smelling, safe and effective and will eliminate any fungal or bacterial spores that may be lurking in those cracks and corners. Citrox is also an effective cleaner for pond accessories and can be used to clean bird tables, feeders and bird baths. It can also be added to water butts to keep water sweet and free from disease.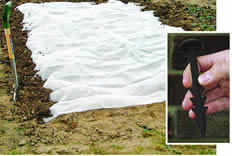 Watch the weather forecast and if a very sharp frost is forecast give your Cold Frame some extra help by covering with a couple of layers of Horticultural Fleece overnight to ensure your crops stay snug and warm. You can also cover any crops growing in the greenhouse to give them just a bit of extra warmth if it's really cold outside. Remove the Fleece during the day to maximise the light and if the weather is fine don't forget to open the cold frame and greenhouse door, as ventilation is still as important as ever and on sunny winter days the greenhouse temperature can rise dramatically and should be ventilated freely except on days when there is a very cold breeze which can quickly nip your plants! Don't forget to close the vents and the door in the late afternoon when the temperature can drop considerably.
If your bare root plants such as Hedging or Fruit bushes arrive during a period of bad weather they can be stored for up to a week in a shady, frost-free place such as an unheated shed or garage but do check to make sure there is some moisture at the roots as they mustn't dry out. If you can't plant them immediately try 'heeling them in' this simply means placing the plants in a trench in a corner of the garden with the plant at an angle so that the main stem is above the trench and the roots in the bottom and covered with soil. Placing the plant at an angle and close to the ground gives more protection from wind and cold, keeps the roots moist and will help maintain dormancy, they can be safely stored in this way for a few weeks until the weather improves.