March has arrived which means you can start off your summer season's crops in earnest. Growing under cover in greenhouses or in propagators allows you to start off crops earlier for earlier harvests. See our great advice on sowing and propagators in this March newsletter.
Alternatively you can sow outdoors in milder areas especially if your soil has been warmed from horticultural fleece or individual cloches.
March is prone to cold nights still so bear this in mind, even if we're experiencing warm days. The increasing daylight hours can lull us into a false sense of security that summer's arrived, and then give us a rude awakening.
Be prepared and enjoy the season ahead.
Patrick Wiltshire
Jobs to do now
Sow aubergines, peppers and tomatoes
Start tender crops off now by sowing seeds in propagators from mid-March. Aubergines, peppers and tomatoes all belong to the same plant family and all have similarly sized seeds. Sow shallowly in individual modules and cover with a thin layer of compost, vermiculite or perlite.
Keep covered until the seedlings are around 5cm (2in), and then pot on. Place your crops outdoors by day once there are no longer risks of frost. In early summer, place your aubergine plants permanently outdoors having given them a sunny position on a patio of balcony.
Final preparations on vacant vegetable plots
If you have a vacant plot, now is a good time to make some final preparations. So long as the soil is not frozen you can remove deep-rooting weeds and dig the soil over. Digging over the soil also exposes overwinter soil-borne pests that hungry birds will appreciate and quickly eat up.
Add fertilisers or manure to improve the soil texture and increase nutrient levels. This is beneficial on parts of the plot where you will be sowing or planting leafy brassicas or perennial vegetables like artichokes or asparagus.
Plant garlic sets in spring
In fleece-warmed soil outdoors, plant sets of garlics 18cm (7in) apart and 10cm (4in) deep in light soils, and up to 5cm (2in) deep in heavier soils.
If you can distinguish, plant the cloves flat-end down; if unsure plant bulbs lengthwards. Label and date the row and keep weeds to a minimum while they emerge and grow on.
Give some re-vitalisation to overwinter crops
Crops that have survived the winter season include kale, spring cabbages and autumn-planting onions. Feed them now with a sea-weed based fertiliser. This will give them a post-winter boost to see them through the next season or so.
It's an opportune time to remove yellowing leaves and debris of overwintering crops to keep disease to a minimum and promote healthy growing conditions.
Plant chitted seed potatoes
This month you can transfer 'chitted' potatoes (seed potatoes prepared from a month's exposure to light and coolness- the shoots will have become short and stumpy, yet with the potential to put up strong leafy stems to feed the tubers, the harvestable potatoes.
Plant first early varieties in mid-March in the south of England or late-March elsewhere in the UK. Avoid frost-pockets when planting, as potatoes will succumb to frosts, blackening their stems and affecting their growth.
Increase watering of greenhouse/conservatory fruit
If we experience a particularly sunny March, containerised fruit trees like figs, olives or pomegranates that you may have been overwintering indoors may be producing fresh, green growth. It's at this time of year you can increase your watering regime before later in spring when they can be moved outdoors during the day.
Add some Seaweed Enhanced plant Growth Stimulant to boost post-winter growth, offering nutrients to the green stems and root network. As the trees flower change the feed to a more potassium-based feed.
Trees for the allotment- attract pollinators to increase fruit set
Add flowering trees for near your allotment; this will bring in pollinating insects which is great for increasing the chances of flower-to-fruit set.
Choose smaller, compact varieties like cherry Autumnalis. (You can even set these in pots.) These flower in abundance encouraging pollinators, as well as providing a pollinator partner for edible cherries.
Marshalls visits….. the greenhouse in March for sowing seeds
It's time to sow seeds indoors of tomatoes and peppers, especially if you have a heated greenhouse or heated propagator. Here we sow seeds of bush tomato 'Montello'.
Set up your light, airy, nutrient-balanced seed compost and modules for sowing. You can use module
trays or seed trays. Massage out any lumps and warm soil with hands.
Add the soil to the module tray or seed tray firm down slightly so
surface is even and level. Water the compost with a watering can with sprinkler (rose).
Place seeds on surface in a grid pattern if sowing in trays, or in
separate modules if sowing in module trays. Seeds do not want to be touching. If this happens they are sown too densely.
Sprinkle a thin layer of seed compost on top of the surface so the
seeds are just covered. Alternatively you can use perlite or vermiculite.
Label and date for your record and place in a heated propagator for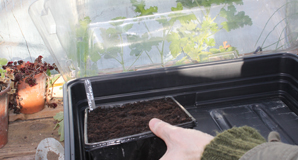 faster and a more favourable environment for germination.
Grow with Us…. Sowing seeds in a propagator
You can start so many vegetables and decorative flowers now to get earlier flowers and harvests. Even without a greenhouse, you can use a propagator kit, perfect for raising seedlings in an ideal ambient and soil environment.
We have a range of seed collections to suit your growing needs and desires, and all collections come with a comprehensive seed-sowing kit to give your crops the perfect start in life.
Read more and watch a video of features writer Patrick Wiltshire showing you the benefits of our Windowsill Propagator.
News
The Marshalls Spring Catalogue 2016 is now available – browse the catalogue online or order a hard
copy through the post. The Spring catalogue is packed with tasty varieties of crops, herbs and allotment accessories for easy and successful growing. Highlights include;
New Envii Range of soil conditioners based on probiotic formulae
Strawberry Sweet Colossus- individual fruits weighing in excess of 40g (1 ½ oz)
Seed Grow Mats- Mats pre-sown with seeds set at an ideal distance, so no need to thin out seedlings or handle fiddly, small seeds.
New to Marshalls - Superfood Berry Collection – Saskatoon, Blueberry Pink Lemonade, Goji
Grow-your-own super-food collection of highly nutritious berry plants. Hardy in the UK they are all easy-care woody shrubs that produce lots of tasty and vitamin-rich fruit in summer. You can easily grow these in large containers outdoors perfect when space is at a premium.