We haven't really had much of a winter in my area it just seems as though autumn has gone on forever – a very wet and windy one it's been too! We've not seen a snowflake and have only had a couple of frosty days, it's just not right!
The clocks go forward this month and the lighter evenings and brighter days just make me eager to get out and do something in the garden, even weeding seems attractive at the moment and with all the wet weather the weeds have been having a heyday – why don't they suffer when conditions are bad like everything else that we want to grow! I've finally cleared out the greenhouse and I'm raring to go, let's hope we can all enjoy a good growing season and some great sunshine like we had last summer.
Happy Gardening
Pat
What to do in the Garden in March
Its time to get started planting your Shallots, Onions and Garlic – provided the ground is workable. If you have ordered Heat Prepared Onion Sets they will be delivered in late March – early April, which is the ideal time to plant them out. They have been specially heat-treated for a period of 20 weeks, which helps to prevent bolting. They cost a little more but the increased growing period and high quality yield more than makes up for it. New Fen Globe and Fen Early will be ready a little earlier than Red Fenand Rumba
If you are a regular exhibitor at your local showyou will need no introduction to Marshalls Showmaster Onions - they can reach up to 4lbs each with a just a little extra care and attention! So if you enjoy exhibiting, or would like to give it a go at your local produce show, try our Module-grown Onion Plants. They are raised early under carefully controlled conditions to produce strong young plants ready for you to pot up into 3½in/9cm Pots and grow on. Harden them off before you plant them out at the end of April - early May and they will produce some of the biggest and best onions you have ever seen! I'm keen to grow the new long red shallot Eschalotte Roderique this year. I tried it at trials last year and it had superb flavour.
If you don't have time or space to start your veg growing from seed check out the great choice of Young Vegetable Plants. They will be delivered as sturdy young plants at just the right time for you to plant they have a good root system and will grow away strongly. If you want some quick results there is still time to get the Extra Early Brassica Collection and you could be harvesting as soon as late May or June. There is a huge range of young plants available from Broad Beans, Runner Beans, Brassicas, Courgettes, Tomatoes, Cucumbers and many more!

If you struggle with Clubroot - the scourge of the brassica grower - then help is at hand! Cabbage Kilaxy, Cauliflower Claptonand Brussels Sprout Crispus are very desirable varieties that have proven to be highly resistant to most clubroot strains. We also now offer Red Cabbage Lodero which is the first red cabbage with Clubroot resistance. They are also offered as a Clubroot Resistant Plant Collection so you can try all of them.
Bear in mind that Clubroot is easily spread through infected soil particles on shoes and tools. So clean and disinfect your garden tools and footwear after cultivation of any infected areas to avoid passing on the problem. Citrox is a natural garden disinfectant that can be safely used on all your tools and is effective against a wide range of bacterial and fungal diseases. It is effective on pond accessories and bird tables too. It can even be added to Water Butts to keep water sweet and free from disease.
If you don't have a greenhouse or space for a vegetable plot, would rather not give up any of your flower garden for growing vegetables, but still like the idea of home grown produce, Gro-Beds are perfect outdoor planters. They are large enough to give you worthwhile crops of many different vegetables and plenty of salads they are even deep enough to grow carrots!
Outdoor Tomatoes crop very well in Gro-Beds and Chillies, Peppersand Aubergine can also be grown in a sunny sheltered spot. Young Plants are the simplest way to grow these tender plants as all the hard work is done for you and all you need to do is plant them straight into your Gro-Bed when the weather has warmed up enough and there is no danger of frost. Grafted Vegetable Plants will give you even quicker results, these plants just shrug off pests and diseases and have increased vigour and give high yields.
Herbs make great container plants the Herb Plant Collection gives you enough plants for a couple of mixed pots or to plant up a Gro-Bed Herb Garden to keep nice and handy by the back door. Salads, Spinach, Swiss Chard, Radishes and Oriental Vegwill all grow well in a Gro-Bed - and at £11.95 for 3 Beds they won't break the bank either! They are also great for growing strawberries you can get a very worthwhile crop from a Gro-Bed filled with Strawberry Plants.
Get ahead with your indoor sowing if you can, especially if you live in colder areawhere a greenhouse or Cold Frame can be a valuable asset! There are a many ways to help you make the most of a shorter growing season and making an earlier sowing can really make a difference for frost sensitive plants such as Runner Beans, Tomatoes, Auberginesand Peppers, allowing you a much longer growing season.
Greenhouse Gro-Beds are a superb way to begin early sowing in your greenhouse. Cut and come again salads such as Salad Bowl or Baby Leaf Salad Mix will crop well before any that are sown outdoors. They are perfect for Tomato, Aubergineand Pepper Plants too just transplant them into your Gro-Beds when they are about 6 – 8 inches tall, you can under plant with quick growing salads or herbs to make the most of the space. Companion plants such as Marigolds help deter aphids and other pests from your greenhouse so planting these in your Gro-Beds with Tomatoes is a great idea.
If you are thinking about growing Asparagus you should get your order in quickly! It is the time to start serious preparation Asparagus is a permanent crop and beds are productive for many years so you need to get the position right, beds needs to be in a sunny spot with some shelter from wind and well drained soil so good preparation will reap excellent rewards. Make sure all perennial weeds and roots are removed and incorporate plenty of organic matter and your Asparagus will flourish. Do not crop in the first year allowing plants to establish a good strong roots system, cut sparingly in the second season and after that you can crop at will!
Tips for the garden...
Finish preparing your seedbeds incorporating plenty of compost and organic matter to improve structure and drainage. Fork in a good multi-purpose fertiliser such as Marshalls Organic Extra – a super-concentrated farmyard manure which releases nutrients to the soil over a long period, boosting healthy growth and producing bumper crops, a couple of weeks before you begin sowing. It is also a superb top-dressing for Fruit Trees and Fruit bushes too. When weather conditions are favourable sow Carrots, Parsnips, Beetroot, Broad Beans, Peas, Spinach, Swiss Chard, Lettuce, Summer Cabbage and Cauliflower, but be prepared to protect the beds if cold weather is forecast. In a frost-free greenhouse make the first sowingsof Peppers, Tomatoes, Cucumber, Celery, Globe Artichokesand Salad Leaves.
Plant out chitted early potatoes from the middle of the month if the weather is fine and the soil has begun to warm up in your area. Add a light sprinkling of Potato Fertiliser or Organic Extra to your trench before you begin to plant. First Earliesand Salad Potatoes are usually planted firstfollowed by Second Earliesthen Maincrop Potatoes.
When planting out, handle potato tubers carefully so you don't damage the shoots, and plant with shoots uppermost. Cover with soil and as soon as the new growth appears begin to earth up, covering the emerging shoots as they grow until they are just covered each time. Keep mounding up in this way until you have a good ridge and there is no more chance of a frost to damage the new leaves. You could cover them with Fleece to keep them warm and help give them a good start especially if the weather is still a bit cold in your area.
In the fruit garden finish planting trees and bushes by the end of the month. Prune out old wood on established Morello Cherries and Apricots. Blueberries do not need pruning in the first two or three years apart from keeping the plant tidy. When pruning established plants, take out any dead, dying or diseased wood and remove one or two of the oldest canes to the base each year. By removing the old stems that don't produce much fruit you encourage younger, more productive stems.
Plant out Strawberry Runners and cover existing Strawberries with Cloches or Fleece for an earlier crop. Re-train and tidy up Blackberry and Hybrid Berry canes before the buds begin to burst. Apply fertiliser such as Marshalls Organic Extra – a super-concentrated farmyard manure which releases nutrients to the soil over a long period, boosting healthy growth - to trees and bushes if not already done in February and apply a mulch of compost around the base of young fruit trees, bushes and canes to conserve moisture and retain nutrients. Protect Apricot, Nectarine and Peachblossom from frost with fleece or a polythene frame – but leave the ends open so bees can find the blossom!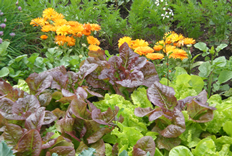 Spring is the perfect time to get children involved in gardening, the key to keeping kids interested is quick results - so bear that in mind when buying seeds for them to grow. There are lots of quick grow seeds that are favourites for children to grow - cut and come again Lettuce and Salad Leaves with a mix of colours, shapes and textures is always a good one, red leaved lettuce Amaze is a small Little Gem type perfect for kids. Carrots are great favourites – it doesn't matter if the seed isn't sown evenly, some interesting carrot shapes can be found when seed is sown a bit higgledy-piggledy! Choose an early variety that can be eaten when small or for something a bit different what about Carrot Purple Haze, this is a funky purple colour with an orange middle and is so sweet kids love to eat it straight from the garden.
Allowing children a little area of their own in the garden or a couple of troughs or large pots to work on and grow their own flowers and vegetables will give them a wonderful sense of achievement when their seeds flourish and grow. Children just love watering and tending the seedlings every day watching them grow.
Pot up your seed raised bedding plants as soon as they arrive and grow on ready for planting out from the end of May when all risk of frost is past. They are invaluable in the summer border and a very cost effective way to get lots of plants for a small outlay. Plant them in large groups and drifts for the most impact Begonia Non-stop does exactly that – it flowers non-stop all summer in borders or pots. Mixed Geraniums are perennial favourites for beds and containers and a massed bed of Scarlet Geraniumswill always turn heads. Lobelia Regatta is the perfect choice for mixing in pots and hanging baskets and a bed of Antirrhinum Liberty can keep you in cut flowers for most of the summer.
Basket and Patio Young Plants will soon be arriving. The more vigorous varieties such as Fuchsia and Petunias can be planted directly into your containers but most will benefit from potting into 3½in pots to grow on. Incorporating Water Retaining Gel Crystals and Slow Release Fertiliser with the compost will save you time and effort later in the summer. Even if the weather is mild do not be tempted to place these tender plants outside just yet - it's very tempting to get your planting underway especially if the weather is good over Easter but the UK climate is very fickle and a short cold blast at the end of April or even May can wipe out all your hard work!
For late summer colour in the border and the vase you can't beat Chrysanthemums, they remain a firm customer favourite year after year. Decorative Sprays will flower from mid-August providing blooms for cutting until the first frosts and isn't difficult grow your own large Bloom Chrysanths Hardy Garden Mums have so many flowers they form a complete dome and completely hide the foliage! These easy to grow plants deserve a place in any border and will pop up every spring for years to come.