May started off ok but quickly turned into a soggy disappointment. It seems the rain was saved up until the latter half of the month, which unfortunately has brought out the most infuriating of garden pests, the snail! Earlier this week I went out to do a bit of weeding and ended up filling half a bucket full of snails, there must have been 50 and that's not an exaggeration. Luckily they didn't seem to do too much damage but nevertheless I'll be extra precautious during June.
I'm looking forward to a great month in the garden; I've got so many plans! My patio gets really hot and sunny so I'll be adding some potted strawberries, which will love the conditions and enable me to harvest an earlier and sweeter crop too. I still have some runner bean plants to plant out, a different variety from last year, which will be a great treat when I come to harvest later in the year. As well as this, I'll be adding some perennials and shrubs into my borders too just to inject my garden with that extra bit of colour and intrigue.
What to do in the Garden in June
When you're a keen gardener, it's an ongoing challenge to find enough space for everything you want to grow! That's why we are so excited
about our new columnar apple trees; they will fit on the smallest patio or courtyard and still give a worthwhile crop of dessert apples.
With three luscious varieties on offer, Garden Fountain, Blue Moon and Fire Dance, you could have your own patio orchard!
Exclusive to Marshalls Mail Order they are space-saving, disease resistant fruit trees that are self fertile so there is no need to worry about pollinating partners.
They can also be planted straight into the garden or grown in containers on the patio. Whatever the size of your garden these compact apple trees make a highly decorative and useful feature with exquisite spring blossom and autumn fruits.
The trees are resistant to scab and mildew, and tolerant of late frosts. Prune the side shoots back to 2-3 buds in mid-June to maintain the columnar habit and encourage fruiting wood, and add a general fertiliser every spring.
Plant Perennials
Perennial flowering plants are such a good investment, they'll flower the first year and just get better and better every year after! From the delicate wildflower look dark leaved Anthriscus sylvestris Ravenswing-a cultivated form of designer cow parsley; to the showy flowers of Echinacea such as Double Scoop Raspberry or Cheyenne Spirit they'll brighten up any garden or make a perfect addition to a cut flower plot.
One of the best perennials is also one of the tallest; Thalictrum has masses of tiny mauve flowers that form a fluffy cloud that towers over the border, teamed with Verbena bonariensis the two plants make a gorgeous airy veil of mauve purple that looks wonderful and also attracts pollinators to the plot.
Plant Beans
If you haven't grown your own French and Runner Beans from seed don't worry; you can still buy young plants. Old favourites such as St George, White Lady and Scarlet Emperor are customer favourites but so are the new self pollinating runner beans such as Firestorm and Stardust. These new generation runner beans give masses of tender beans on vigorous plants that set pods whatever the weather, they are ideal to plant out now while soil is warmer and frosts are not a risk. All beans need rich, well-manured soil and plenty of water during the growing season. If summer weather turns too hot and humid, misting the plants with water can help pod set. Birds sometimes peck the flowers and stop pods from forming; if you have a garden of marauding sparrows (the usual culprits) consider growing white flowered varieties because the birds seem to leave these alone.
Strawberries and Salads
June is all about strawberries and salads, Wimbledon is on the TV and picnics and alfresco meals are the perk of this hopefully warm and sunny month. With early, mid-season and late varieties, plus misted tip strawberries, the strawberry season can last well into September.
Ready to order now Misted Tip Strawberries are perfect for late summer planting. This innovative process in strawberry production is used by commercial growers to give bigger and better first year yields. Plants are produced by taking early, un-rooted runner tips from specially selected mother plants; these are then rooted into individual modules in a mist propagation unit.
Planted in late summer, the plants establish quickly and flower buds are initiated in autumn rather than spring ensuring that they are ready to burst into life to give a high first year yield.
Salad crops also get into their stride in June, warm weather and long days are perfect for cut and come again salad leaves and herbs such as rocket and coriander.
Tips for the garden...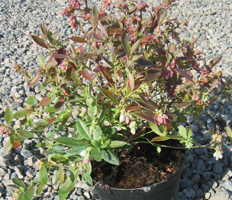 Plant potted trees and shrubs
Whether you are planting potted fruit trees or mature shrubs the method is the same, just give them enough space to spread their roots and water the plants well before planting to make sure the roots are thoroughly moist. Once your new potted shrubs and trees arrive plant them as soon as possible; either in a large container or into a prepared planting hole in the garden.
Make the planting hole at least twice the size and depth of the pot and give the plant the best possible start by planting into good quality soil-based compost with some general fertiliser added to the soil.
Gently knock the plant out of its pot keeping as much soil around the root ball as possible. Plant with the top of the root ball no more than 2.5cm/1in below the soil. Finish by gently firming the plants in and give a final water to settle soil around the roots.
The June drop
It's time to thin out apples, pears and plums. Nature often lends a helping hand with this job, shedding excess fruit in a process that gardeners know as the June Drop. Immature fruits fall to the ground, sometimes at an alarming rate - but don't worry it happens every year and actually helps the plants to cope with the remaining crop.
If your fruit tree is still crowded with immature fruits thin out the remainder to a couple of fruits on every spur. This will give the remaining fruit enough room to expand and ripen properly and will ultimately give you a worthwhile crop.
While you are inspecting fruit trees closely look for signs of disease such as canker that shows as oozing and corky bark.
Old trees often show signs of the disease and although it weakens the trees eventually many will continue to crop even with the disease. Replace any badly affected trees with a new replacement fruit tree. A great excuse for a different variety!!
Ventilate the greenhouse
We are all hoping for a hot summer and most fruiting crops enjoy warm sunny weather. Help plants to cope with hot days by keeping the greenhouse well ventilated, open vents and windows and leave the door open if possible. Apart from giving plants and crops some airflow it also encourages pollinators in to help set tomatoes and other indoor fruits such as melons or peppers.
If the temperature rises and the heat is intense hose down the greenhouse floor to increase humidity. Invest in sticky traps and keep a watch for greenhouse pests such as whitefly and red spider mite too.
Shade plants such as begonias from hot sun and when watering avoid splashing foliage with droplets of water that may scorch the leaves.
Deal with pests
Know your enemy is a good phrase to remember this month. The crops are leafing up nicely and bugs and butterflies are just as keen to make use of the veggies as we are!
While cabbage white butterflies may look pretty flitting about the plot their voracious caterpillars can make very short work of early brassicas. Don't give them a chance, use insect netting and use nematodes if you suspect a plague!
Carrot root fly and cabbage root fly can also be tackled with nematodes; Grow your Own will deal with most garden pests. But if you prefer more traditional methods use cabbage collars around the base of your brassica plants to deter the females from laying her eggs around the plant stems. Carrot root flies are attracted to your carrot crop by smell so try not to leave carrot thinning lying around and deter the females by enclosing your carrots with a tall netting screen, preferably over a metre tall. Females fly low over crops and this height barrier will help prevent them targeting your crop.