It's summer! Now is when you really start to benefit from all your hard work on the vegetable plot; July is a month of great harvests. Nothing beats the first harvest of new potatoes, especially when boiled and served with butter. The first carrots will be ready to pull too as well as courgettes and the continuing salad crops. July is often the hottest and driest month of the year but like any gardener knows, we should never trust the consistency of British weather. Last year we had the longest heat wave for seven years followed by pretty much all of the month's rain in a week. This can cause a lot of stress for the plants as well as gardeners let's hope for a steady July this year.
What to do in the Garden in July
Now is the perfect time to sow deliciousoriental vegetables such as Pak Choi, Chinese Cabbage, Mustard Red Zest and Chinese Broccoli Kailaan. They're all quick growing so you'll be able to harvest them in no time at all. They're also tasty and great in stir-fries and soups but my favourite way to eat them is to harvest them as baby leaf crops to add to salads. Lettuce and salad leaves can still be sown, just keep the batches small and you'll be able to crop well into autumn.
It's not too late to sow dwarf French beans. These tend to be on smaller, more tender pods than runner beans so take up less space, meaning their great if you've not got much room left but still want to grow beans. The immature pods are eaten whole, the semi-mature pods are shelled and the beans inside are eaten and the mature pods can also be shelled and eaten fresh or dried and stored these beans are like kidney beans. Other crops you can still sow now are, beetroot,carrots,radish,spring onions, andbaby turnips to give you a harvest in the early days of autumn.
You should start to plan your over-wintering vegetable plots. There are plenty of crops that you can include, for instance Kale. It's a really easy and tasty crop to grow and will withstand the conditions over winter. Just give it adequate drainage and it'll produce a great crop. Kale Redbor and Cavolo Nero are two great varieties to choose because, as well as being delicious, they add colour to your garden too. You can get an even better crop by covering with fleece or a cloche to protect them from the worst weather until the spring sun arrives to give you a helping hand.
Winter lettuce such asLettuce 'Winter Density'can be sown now for a good crop late in the season. It has solid dark hearts rather like a large Little Gem with a very sweet flavour. Very winter hardy but also slow to bolt and tolerant of heat. I've been growing this one for many years, and have to say that it is one of my favourites because it versatile and delicious.
Although the days are long, time always seems to be at a premium in the garden.A late sowing of vegetables can often be forgotten. However, at Marshalls we sell young vegetable and salad plantswhichare grown to the perfect size for planting out, so even if you've forgotten about late vegetables it's not too late. Broad Beans are perfect for autumn planting and will be perfectly happy growing away over winter, giving you an early harvest next year.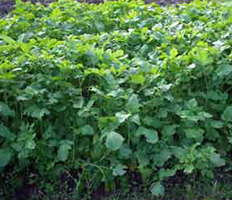 When you start to harvest early crops such as potatoes consider sowing Green Manure Seed to replace them. They will cover bare soil suppressing weeds, reducing nutrient leaching and protecting soil from erosion. Caliente Mustard releases various natural compounds which bio-fumigates the soil, suppressing many soil borne pests and diseases and by digging in the foliage you'll add important structure to your soil too. Legumes(beans) 'fix' nitrogen from the atmosphere into the soil, which makes it available for the subsequent crop. Wait six weeks after harvest before sowing Green Manuresand once they have been dug in wait a further2-3 weeks before re-planting.
July is a great month for gardening shows. Both Hampton Court Palace and Tatton Park Flower Shows are in July and we plan to go to both. They're a great place to see what's new in the world of gardening and to also get inspiration for your own garden. Hampton court is from the 8th to the 13th of July and is definitely worth a visit if you've not been before. The show gardens are fantastic and this year they sound very exciting but aside from that it's a brilliant day out and a great chance to see the best in gardening.
Tatton Park Flower Show is home to inventive gardens, flowerbed competition, the RHS Young Designer of the Year, and a plenty of beautiful and exciting summer flowers. It's split into four zones; escape, grow, inspire and feast, bringing together many varied aspects of the gardening world which means there'll be something for everyone. For those who are interested in the gardens, this year they'll be themed based on the elements of Earth, Wind, Water and Fire. For those that are into growing your own, there'll be workshops on growing your own produce with RHS experts.
Tips for the garden...
As your cordon tomatoes grow, tie them into supports, removing side shoots as you go to help the plant focus energy into fruit development. Regularly feed with a balanced tomato food and ensure the compost is moist at all times; blossom end rot is caused by a lack of calcium which can occur if the compost dries out. Nutri-Feed is also good for other fruiting plants such as Cucumbers, Aubergines, and Courgettes.
One of the greatest problems faced by greenhouse gardeners is over heating. Ensure windows, vents and doors are opened during the day to allow air to flow though the house. This also helps with reduce risks of pests and diseases. If your green house has an arid environment moisten the floor by spraying with water. This increases the humidity and will help keeps pests such as red spider mite under control. Glasshouse netting will provide shade for you plants which will prevent leaf scorching, especially problematic if you have an over-head irrigation system.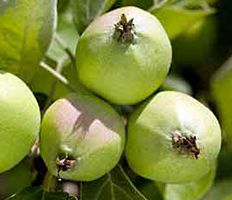 The June drop Now that the June drop has finished, check your apple and pear trees for any more required thinning needed. A good rule of thumb is to leave one fruit every 10cms. It might seem drastic but you'll get better sized, tastiest fruit when it comes to harvesting. Many fruit trees can produce suckers that shoot from the base that grow quickly, draining the energy from the tree. These should be cut off using secateurs to allow the fruit tree to maximise energy supplies where they are most beneficial.
Watering is often over-looked with fruit trees, especially wall train trees. Because they are grown so close to the wall they can suffer from lack of water, so take extra care and ensure that they are adequately irrigated. Water at the base of the tree and allow the water to absorb fully. Newly planted fruit trees should be watered a few times each week. Little and often is not really the best practice in the case of watering fruit trees, instead a watering can full every three days should be fine.
Nothing beats home grown, freshly picked soft fruit and July is the season when this beautiful harvest really comes into its own. Anyone who knows anything about Strawberries will agree that supermarket varieties available all year round are tasteless, so when it comes to flavour and juiciness home-grown varieties are a must. It can be difficult to harvest all of your fruit when there is so much of it, but try to avoid leaving over-ripe fruit on the plants. They will start to rot, allowing grey mould to set in. Remember that, although July can be wet, you should still water your fruit garden.
Netting and cloches play an important role in the soft fruit garden. They help protect the fruit and also help with the ripening process. We all know that birds are the biggest pest of a soft fruit crop and this is really the only suitable control. Finer netting will keep of insect pests too. Using a polythene tunnel has the same effect with the added bonus of increase the heat, helping to speed up the ripening process.
One disease spreads fear into the heart of all potato growers. Potato blight has always been a troublesome disease of potatoes but with certain techniques you can help prevent it. Be vigilant. Regularly check you crop for signs of the disease, these being brown or black spots at the tips and margins of leaves which will curl and die, eventually the stems will turn brown and the plant will die. By checking your crop regularly you'll hopefully be able to get in there quick and as soon as you spot it, cut off all the stems above ground level. This might stop the spread into the tubers and could save your crop.
Vine weevil is a pest which is prevalent this time of year and affects your container grown plants. They can devastate your potted crops but with a little investigation you should be able to combat this problem. The first sign to look for is small notches that have been nibbled out of the side of the leaves, indicating adult infestation. This in itself is not a massive problem, it just makes the plant look unsightly, the bigger problem can be found within compost. Vine weevil larvae can devastate a crop. They look like white maggots and nibble the roots of crops such as strawberries, causing the plant to gradually die. Nemasys Vine Weevil killer is a predatory nematode, which offers a good organic method of control.