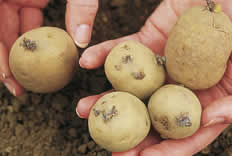 With a particularly poor potato crop last year following the drought over the previous winter - remember the hose-pipe bans? UK farmers are now counting the cost of the devastating floods and poor weather in general, combined with lack of sunshine for bulking up the harvest means that Potato yields were severely affected. Unfortunately this means a real shortage in supply - not only of potatoes for cooking but also Seed Potatoes. To avoid disappointment try to get your Seed Potato order in early to ensure your favourite varieties are still available. With potato prices rising dramatically in the shops it makes more sense than ever to grow your own.
If you don't have the space to grow a couple of rows of potatoes you can still get a worthwhile crop by growing in Gro-Sacks, they are very strong, sturdy containers and there is a choice of Potato Swift (the earliest new potato), Charlotte (salad variety), or Hunter (second early) to give you continuity. So don't be caught out, order now.
Begin chitting your Seed Potatoes as soon as they arrive by placing them in a tray with the 'rose' end - the end with most 'eyes'- uppermost - your free chitting tray will help keep them upright and stable. Keep them in a cool, fairly light position but avoid direct sunlight - don't put them in the dark - this will only produce pale spindly sprouts and weak growth. Shoots will begin to form in a few weeks and the tubers will be ready to grow away as soon as they are planted. When it comes to planting your Potatoes be led by the weather in your area, it is better to wait a while than plant in poor growing conditions.
Fruit trees and can be planted now while they are still dormant. Even if you don't have a lot of space you can still find room for at least one tree. Fruit trees can be trained and grown very successfully as a fan or espalier against a wall or fence. Apples Scrumptious or Discovery are ideal varieties to train, as is Pear Doyenne du Comice or Beurre Hardy a delicious dessert pear which is heavy cropping and has blossom that copes well with late frost. If you only have a patio then Dwarf Fruit Trees are best for you as they are just perfect for containers. Peach Red Leaf is a beautiful variety with deep red foliage, lovely pink blossom and delicious white-fleshed fruit. Fruit set is normally quite heavy so it is advisable to thin them out a bit and allow the remaining peaches to mature to full size, ready for picking in early August it thrives in a warm sunny position.
Soft Fruit is always a popular choice, late Strawberry Malwina was chosen as a Which Best Buy last year - and once tasted it's easy to see why - it has large dark red fruit with succulent red flesh and is easy to pick. Of course Strawberry Marshmello remains our best selling main season variety. Tayberry Buckingham Thornless produces very high yields of sweet aromatic berries from July and they have a delicious old fashioned flavour.
If growing space in your garden is tight Marshalls Gro-Beds can make a productive growing area for vegetables and salads on a patio. The big, collapsible Gro-Bed just needs 4 canes to slide in the special sleeves at the top for rigidity. Then fill with good loamy soil or compost and you're ready to grow. They are perfect for growing a wide range of vegetable seeds and salads and allow intensive planting with just 4-6ins between rows and at 30cms deep you can even grow Carrots. The 4 strong carry handles mean it can be moved around the garden at different times of the growing year. They make a superb container for outdoor Tomatoes and Peppers and you can repeat sow and harvest super quality salads all summer long.
Gro-Beds are an excellent choice if you have a greenhouse and want to increase productivity, the design is perfect in terms of size at 80cm (32in) long and 54cm (21in) wide, 6 will fit neatly into an 8ft x6ft greenhouse. Spring sowing can be started earlier allowing you to grow salads etc. much earlier. Using Gro-Beds and repeat sowing means you can have crops in your greenhouse just about all year round.
They are perfect for Greenhouse Tomatoes, Cucumbers, Aubergines and Peppers and are large enough to under-plant these with a catch crop such as Salad Leaves, Herbs or with companion plants such as Marigolds - to help deter aphids and whitefly.
You can start early spring crops indoors and move your Gro-Beds outside as the weather turns milder. And at just £11.95 for 3 of these large bags they won't break the bank either!
Would you like to grow vegetables but haven't the facilities for sowing seeds? Then let us do the work of sowing, pricking out and growing on for you. Marshalls Vegetable Young Plants have been expertly grown under ideal nursery conditions to ensure well developed plants with a good root system. They will be despatched only when they are sturdy enough to be planted out ready for rapid establishment in your garden. The Extra Early Brassica Collection will kick-start your growing year - they will be delivered in March, several weeks earlier than the main brassica delivery period.
There is a very varied range of young veg plants, from Artichoke, Runner Beans, Courgettes, Peppers, Celery, Cabbage, Broccoli, and many more. There are enough varieties to keep you in vegetables for most of the year.
You can sow onion seeds in modules anytime now, sow three or four seeds to each module. Cover with a layer of vermiculite or compost and keep the greenhouse temperature at 10-16°C (50-60°F). Unless you want to show your onions there is no need to thin them out, once they are planted the onions will form a clump of bulbs which push themselves apart as they grow. Ailsa Craig is an old favourite for New Year sowing as is Red Baron. Marco, the new variety exclusive to Marshalls gave top results in national trials and has good storage capabilities. Long Red Florence is an old heirloom variety with a mild sweet flavour making it a good dual purpose onion that can be harvested young for salads or allowed to mature as a main crop. It produces lovely elongated red bulbs that have a mild and sweet flavour and is ideal for cooking, salads and can also be pickled.
Harden young onion plants off before planting out in spring trying not to disturb the roots, keep free from weeds which will compete for light and water. Onions grown from seed tend to bolt less and usually store well.
Tips for the garden...
Add bulk and nutrients to your vegetable beds with a thick layer of lovely compost! I'm sure everyone makes their own compost by now, it's so easy. Good compost is a combination soft green, nitrogen-rich material such as weeds (do not compost any that have set seed!), soft prunings, grass clippings and vegetable peelings and dry, brown, carbon-rich material like hedge prunings, bedding from pets such as rabbits, hay, wood shavings, shredded newspaper and torn up cardboard in roughly even quantities. Don't let one material dominate the heap. First time compost makers tend to add rather too many grass clippings which tend to stick together in soggy smelly layers with very little aeration, so try to avoid this by adding plenty of coarser matter. Turning the heap from time to time mixes up the green and brown materials, aerates it and helps it heat up which in turn speeds up the composting process.
Making compost relies on the micro-organisms and soil dwelling creatures that feed on decaying matter, to get your composting system working faster you can add a compost activator. 'Make Your Own Compost' contains a balanced mixture of microbes and the right levels of organic nutrients to support their activity and kick start them into action. It is a perfect way to get a new heap started.
Spread the lovely brown crumbly compost from the bottom of the heap onto your weed free beds. If it's a bit coarse or stringy with bits of twig or other material that hasn't broken down don't worry it is still usable. You don't have to dig it in yet, just spread it over the soil and let worms and frosty weather do some of the work for you. Any large un-composted material can be returned back into your new compost heap.
If you haven't enough home made compost add some Organic Extra to your beds. This super concentrated fertiliser adds plenty of rich nutrients to the soil.
If you haven't already done so it's time to Spring-Clean the greenhouse! A quick and simple way to remove green algae from the glass is by using EcoSure Green-Off, it is the safe and environmentally friendly way of removing algae from greenhouses and all garden surfaces. It is a biological control containing natural enzymes and cultures which effectively remove algae - and the results last for months!
It's so easy to use too, the spray-on-and-leave formula of EcoSure Green-Off means there's no need to scrub, just mix it, spray it on to the glass and leave! It couldn't be simpler. It also removes algae from decking, stone paths, patios, steps and driveways, pots, wooden sheds and fences.
Begin forcing Rhubarb Plants now for the earliest tender stems. Forcing simply excludes light from the growing crown by the use of a rhubarb forcer or just an up-turned bucket. Keeping the crowns in the dark encourages the plant to send out tender young stems, which are forced upwards looking for light. Heaping compost, straw or well-rotted manure around the forcer or bucket will generate a bit more warmth and they will start producing even sooner!
Rhubarb plants should be a couple of years old before forcing, as this process takes a lot of energy and plants are best left to establish a good root system first. Once forced, plants should be allowed to grow naturally the next season to recover their vigour. Growing three crowns allows you to force one each year in rotation thus giving you the best of both worlds and gives the forced crowns a recovery period.
Seakale can be forced in just the same way as Rhubarb, and will produce lots of tender, creamy-white stems but unlike Rhubarb it can be forced in the first season. You won't find this unusual vegetable in supermarkets but growing your own is so simple - it is actually a UK native hardy perennial which can be found growing above the high-tide mark along many of our coastlines. Seakale is quite a pretty plant in its own right, with fleshy, glaucous leaves and abundant white flowers, so it has good ornamental value too! Once forced the tender, blanched stems can be cooked and served like asparagus.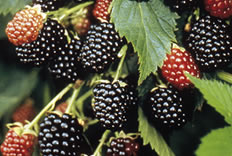 If you like to encourage wildlife into your garden don't be in too much of a rush to cut everything back. Leave seed heads and berries on plants for animals and birds to eat and insects such as ladybirds and lacewings to hibernate in. Hardy Fuchsias and perennials such as Penstemons and Verbena Bonariensis will benefit from having the stems left on over winter to give some protection to the crown of the plant. Cut these stems hard back in early spring once you see the first new buds breaking from the base of the plants.
Plants with decorative seed pods such as Love in a Mist look really attractive during winter and help feed the birds too and many grasses look spectacular when it's frosty, especially the taller varieties. A small stack of old logs in a quiet corner can provide shelter for frogs, toads and lots of other wildlife.
Pinch out the growing tips of autumn sown sweet pea plants grown over winter in a cold frame or greenhouse once they are about four inches tall, this will encourage side-shoots to form and produce stronger stockier, plants with more flowers.
Keep the frame opened as much as possible to allow good air circulation and harden off the plants. Keep an eye open for slug damage to the young plants. Prepare your sweet pea bed by forking over and incorporating leaf mould, compost or fertiliser and allow the ground to settle before planting out in spring.