February Newsletter
February is a nice, short month and by the end of this month it should feel as if spring is finally on its way and the darkest days of winter are behind us.
It has been an incredibly mild start to the year and a very wet one in some parts of the country. If your soil is still wet and sticky don't be tempted to do any winter digging until it has dried out a bit. Sticky mud-caked boots are a sure sign that soil is too wet to work! Better to have a late start than destroy your soil structure.
But there are plenty of jobs to be getting on with; February is a good time to prune and there is still time to plant dormant fruit trees and hedging plants. Get your order in as soon as possible to get the varieties you want.
There is also plenty to do indoors even if you don't have a greenhouse. Potatoes are chitting, seeds can be sown and corms and tubers of begonias and gladioli can all be started into growth on a warm windowsill or a cosy shed.
And February is a great month to prepare all your tools and gardening equipment ready for the mad rush that starts in March...

Whatever you plan to do, enjoy February, it will be spring before we know it!
What to do in the Garden in February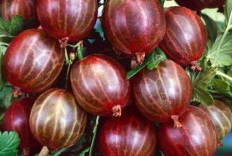 Plant soft fruit. There's nothing quite like growing your own fruit; picked fresh and eaten warm straight from garden it is one of the highlights of a British summer and with our great selection of soft fruit you'll be spoilt for choice. We have some great offers on fruit. Take advantage of our special offers on sweet, juicy 'Vibrant' strawberries including BUY 6 PLANTS and get a FREE Greenhouse Gro-Bed.Planted now and given some protection from frost, strawberries will crop a couple of weeks earlier than unprotected plants.
Home grown gooseberries are another typically British treat, the plants love our climate and they are a really versatile berry- perfect cooked in pies and crumbles or folded into cream or yogurt as a fruit fool or simply eaten ripe from the plant- delicious!
One of the prettiest vegetable gardens I've ever worked in had a row of red gooseberries under planted with chives; in summer the pompom flower heads of the chives looked marvellous with the ruby coloured fruit. The gooseberries were grown as short cordons and it's an idea to copy if you are looking for a decorative boundary for the veg plot. If you plan to plant more than one gooseberry bush save money with our special Gooseberry Collection.
It's the right time to plant all kinds of fruit including bare rooted dormant fruit trees, plants and bushes. Bare root plants establish fast to give vigorous, healthy plants with strong root systems and a great crop of summer fruit and berries.
Vegetable seeds and plants. Growing your own vegetables is rewarding and cost effective and there are plenty of vegetables to sow now from seed, but if you don't have a lot of greenhouse space or only want a few plants of each vegetable variety, then ordering some of your vegetables as plants is a versatile option and just as good value. Our young vegetable plants are despatched to you at exactly the right time to plant so this frees up your growing space and also saves your time and heating costs.
Our Extra Early Brassica Collection will keep you well ahead of the game with an early summer crop of the tastiest brassicas including cauliflower, cabbage and broccoli. This flexible collection lets you choose as few as 12 plants or as many as 48 plants so you'll get just the right amount for your plot with no waste.
All of our vegetable plants are grown by experts and we check on quality at every stage so you can be sure of receiving first class, healthy plants.
Look through the catalogue or online to see all our great value veg collections plus a huge variety of vegetables to grow from seed.
Onions and shallots If you grow your onions and shallots from sets planted outside you'll know how easy it is to get a worthwhile crop. Get spring planted onions, shallots and garlic planted as soon as you can for a continuous crop. Onion Stuttgarter Stanfield, Shallot Golden Gourmet and Garlic Solent Wight are all bestsellers, and they are on special offer complete with FREE fertilizer! So order NOW .They'll thrive in a weed free, fertile soil in a sunny position.
Grow your main crop of onions or shallots outside but you can also start these essential vegetables off inside to provide an 'extra' early crop for salads. It's a good way of using any shallot bulbs left over from planting your normal rows. Plant the sets individually into small cells or put 2 or 3 sets into shallow pots of good quality compost. Don't worry about low light levels; the shallots will be perfectly happy sitting under the staging until they start to sprout. When you see the green shoots appearing bring them onto the staging to give the plants a bit more light.
You can plant them out when soil warms up and harvest in the usual way or harvest them when they are immature to use as tasty salad onions. If you're growing onions or shallots for salads there is no need to separate multi-sown pots, just plant as a clump complete with the soil that's around them.
Flowers and cut flowers.
Begonias are probably the most weather tolerant summer bedding plants, whether you buy them as young plants or start them off as tubers. Planted into hanging baskets and containers they'll cheer up the garden or allotment and they are ideal for windswept situations.
Begonia tubers can be coaxed into life late in the month but if you want your begonias as young plants order these NOW. They are such popular bedding plants that they go really quickly, however many we order, so don't leave it late and be disappointed.
Marshalls begonia plants are supplied asmedium plugs (48 cells per tray) measuring approximately 5-7cm/2-3in from base to tip with a well developed root system. They arrive in spring all ready for immediate potting up into 7cm/3in pots to grow on before planting out into their final position.
Marshalls begonia tubers are delivered from March. If you already have overwintering tubers keep them protected from frost. Once they start to sprout cover them with a fine covering of soil-with the concave side facing upwards. Keep somewhere warm and water just enough to keep the compost moist but not wet. Once the plants have made around 10cms (4in) of growth they are ready to be transplanted into baskets and containers.
Tuberous plants such as Dahlias are also perfect for the cutting plot and their tubers can also be started into growth at the end of the month. Lily bulbs, gladioli corms and alstroemeria are all delivered from late February.
All these lovely plants attract insects and help ensure good pollination for your vegetables and fruit as well as looking wonderful on the plot and in a vase.
Tips for the garden...
Create more space.
If your kitchen garden or fruit plot is in danger of bursting at the seams try growing edible crops in Gro-beds. If you disguise them with decorative hazel surrounds they add a real country garden look to the plot. Hazel Patio planters are easy to cover with fleece in winter and they allow awkward corners of the garden to become productive areas. You can even turn a patio or balcony into a mini kitchen garden. Ideal for salad crops and soft fruit such as strawberries; they are also excellent filled with ericaceous compost to grow acid loving crops such as blueberries.
We grew runner beans and stump-rooted carrots in our Gro-Beds last summer and got a really good crop of both. Tethering the bean canes to the fence gave all the support the runner beans needed and the carrots were easy to protect from carrot root fly with a layer of mesh netting, the separate hazel surrounds also blended in well with the cottage-garden style of the plot.
Clean and sharpen tools
Anyone who has dug a plot with a blunt spade will know it's so much easier to work with clean, sharp tools. A sharp edge on a spade or hoe makes all the difference when it comes to slicing through soil, and hoes rely on a sharp blade to sever weed stems effectively. Sharp blades also make pruning easier, a cleaner cut means there are no unsightly snags that can let in disease.
A garden tool sharpener attaches to the end of an ordinary power drill and makes short work of honing the edge of heavier tools. Use a secateur sharpener to get a sharp edge quickly and safely on your secateurs.
Once tools are clean and sharp resolve to keep them that way. Hang a hand brush on the shed door ready to give tools a speedy 'end of session' brush down. On days when it is too wet to get out on the plot spend a snug afternoon in the shed cleaning plant labels, washing pots and wiping over any wooden handles and dibbers with an oiled rag to protect the wood from splitting.
We may get some snow this month but don't wait for the snow, get frost protection organised and a snow shovel BEFORE it snows because once the white stuff is falling, these could be in short supply!
Our brilliant NEW SnoBlad is useful all year round because it will shift anything snow, leaves, hedge trimmings, even flood water!
Frost Protection
Nothing's more frustrating than seeing a favourite crop fail for want of some timely protection so keep a careful eye on the weather forecast and be prepared to cover any vulnerable plants.
February can be a cold month but our warm autumn and winter has encouraged some plants to think it is spring already. In very mild winters plants get fooled into breaking bud early. Fruit trees are particularly vulnerable and if a frost or sudden cold snap hits the blossom your crop can be affected. Protect fruit trees with a layer of fleece. It's obviously easier to drape fleece over small trees or fruit that is grown against a support, but it's worth trying to protect the blossom of larger trees too. Fleece, fleece tunnels and cloches are invaluable for keeping soil temperature a few degrees warmer and to protect growing crops from frost damage.
Plant hedges for shelter. Wet and windy sums up the weather of the past few months, and it's a pattern that seems set to continue year on year as our climate gets warmer. Putting up some sort of shelter belt or barrier against cold winds is often the first job we do in a garden or allotment; whether it's a low box hedge to protect vegetables and flowers or a substantial line of tall trees to filter wind, the effect is the same.
Living barriers such as hedges are far more effective at filtering wind than solid fences. Even walls will create turbulence as the wind rises over them and causes a whirlpool effect on the other side.
Fruiting hedges such as sloe, Viburnum opulus and hawthorn are as attractive to wildlife as they are to us. They'll give a froth of spring blossom, autumn fruits, plus nesting sites for birds and shelter for insects. A sweet briar rose hedge will smell delicious too!
Planting distances vary depending on whether you want a single line of plants or a fuller, denser barrier, from 30-60cm/1-2ft depending on the variety and the size of hedge required.
For a dense hedge plant a staggered double row with 38cm/15in between rows and 45cm/18ins between plants. All our hedging is delivered as bare rooted bundles, with approximate height of up to 1 metre /39in depending on the variety.