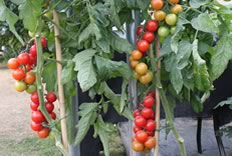 If you don't normally have much success growing the more tender vegetables such as Tomatoes, Cucumbers and Aubergines you might find Grafted Vegetable Plants will give you better results. The rootstocks used for grafting are selected for their ability to resist infection by certain soil borne pathogens as well as their ability to increase vigour and yield. They are much more vigorous, producing larger, stronger plants that are less susceptible to nutritional disorders and have a greater resistance to pests and diseases, will produce fruit earlier (by two to three weeks) giving high yields of top quality fruit over a longer period compared with normal plants. So now you can grow the best Aubergines, Peppers and Tomatoes you've ever tasted!
They are particularly recommended for greenhouse growing especially when planted straight into the soil when crops can't be rotated as we would like. If you grow Tomatoes in your greenhouse soil each year or in the same sunny spot in your garden it can lead to soil sickness which in turn decreases vigour and yield from your plants. Growing Grafted Tomatoes in these situations can have an immediate and significant effect. If you've never grown Grafted Vegetables you will be amazed at the health and vigour of the plants and the bumper crops they produce!
Plant bare-rooted fruit bushes and trees now while they are still dormant. You don't need acres of space as most modern varieties are grown on dwarfing rootstock and don't get too huge. There is a large range of Top Fruit to suit all gardens and tastes. You can even grow dwarf fruit trees such as Peach Red Leaf, Nectarine Harco and Cherry Velvet Taste in a container on the patio.
Strawberries are an easy Soft Fruit to grow and if you have a bit of space our Strawberry Continuity Collection which contains 12 plants each of Vibrant (early cropping), Marshmello (main crop) and Malwina (late cropping) which is enough to give you fruit all summer from May right through to September - Marshalls is the only place you can buy all three of these great varieties! New to our range is Strawberry Buddy which is an everbearer with great flavour, it also has excellent disease resistance making it perfect for the home gardener. In fact it is so good in all respects that it is the number one variety for a leading supermarkets 'Taste the Difference' range!
Blackberry Reuben is a unique blackberry - it is the worlds first Primocane Blackberry! This simply means it will fruit on the first year's growth. It is and upright plant with compact fruit bearing laterals which makes picking easier and making it a really garden friendly variety. Reuben crops from late August and will continue fruiting right up to the first frosts.
If you don't really have the facility to grow vegetables from seed but would like still like to try growing your own, then let us do the work for you. We will sow, prick out and grow on in the best conditions, to ensure well developed plants with a good root system. Our Vegetable Starter Plants will be despatched to you only when they are sturdy enough to be planted out straight into your garden where they will quickly become established, it is a good idea to keep them covered with netting to avoid damage from pigeons and caterpillars. Extra Early Brassica Plants are a great way to give you some of the earliest crops of Cabbage, Calabrese and Cauliflower - plant them in March and you could be harvesting from May!
Some customers have told us they've lost their Autumn sown Broad Beans due to the excessive amount of rain and snow, if this applies to you then catch up with our young Broad Bean Plants Masterpiece Green Longpod and The Sutton – this one is perfect for the smaller garden as it isn't as tall as most broad bean plants.
There are many more Vegetable Starter Plants to choose from including Chillies, Peppers and Aubergines, Runner Beans, Courgettes, Celery, Cabbage, Broccoli, and many more. In fact there are enough varieties to keep you going for most of the summer!
Order your Spring Planting Heat Prepared Onion Sets for delivery in late March / early April. The sets are heat-treated for 20 weeks to minimise bolting. Heat treating also extends the growth period to ensure good yields are achieved. There is a great choice of Spring planting Shallots and Garlic as well as normal Onion Sets too. If you prefer to grow your Onions and Shallots from seed you will find a good selection of varieties but don't leave it too long before you sow them
If you enjoy growing for exhibition then Showmaster Onion Plants will need no introduction. With a little care and attention these onions can reach a huge size – up to 4lbs each can be achieved! Supplied as young plug plants they will romp away once planted
When your seed potatoes arrive set them out to 'chit' by placing them in a tray with the 'rose' end - the end with most 'eyes'- uppermost (included with your potato order will be a free chitting tray which will help keep them upright and stable). Chitting simply means encouraging the seed potatoes to sprout so that once planted they will begin to grow away quicker. It is only advised to chit First Earlies and Second Earlies – there is no real benefit of chitting for Maincrop potatoes.
Keep your Potatoes in a cool, fairly light position but avoid direct sunlight (don't put them in the dark - this will only produce pale spindly sprouts and weak growth). Short stubby shoots will begin to form in a few weeks and the tubers will be ready to grow away as soon as they are planted. Don't plant before March in sheltered Southern areas or April for chillier parts of the country - unless you have warmed the soil and can give some protection against frost. If blight is a problem in your area try Setanta or Lady Balfour which both have good resistance to both foliage blight and tuber blight.
Tips for the garden...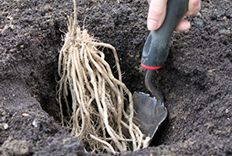 Growing your own Asparagus always begins with good preparation, weeding thoroughly to remove all perennial weeds and roots is essential, incorporate plenty of organic matter ready for planting in a few weeks time. Asparagus beds are a long term investment and not part of your normal crop rotation, so you will need a sunny area than can be set aside as a permanent site. A well managed bed can continue to crop for 10- 20 years, so good initial preparation will pay dividends for the future of your crop. In future seasons keep weeds at bay and top dress every spring.
Having made a thorough job of preparing your bed, make sure you buy only first quality one year old Asparagus Crowns. Plant them 12-18in apart (a double staggered row 18in apart will maximise your space).
Do not harvest your Asparagus in the first year, but allow the crowns to grow and develop a good root system, cut sparingly in the second year and by the third year you will have the best asparagus you have ever tasted!
Pinch out the growing tips of autumn sown sweet pea plants grown over winter in a cold frame or greenhouse once they are about four inches tall, this will encourage side-shoots to form and produce stronger stockier, plants with more flowers. Keep the frame opened as much as possible to allow good air circulation and harden off the plants. Keep an eye open for slug damage to the young plants. Prepare your Sweet Pea bed by forking over and incorporating leaf mould, compost or fertiliser and allowing the ground to settle before planting.
If you haven't sown yours yet don't worry, our Sweet Pea Plants have been growing slowly over the winter and are ready to burst into growth as soon as the weather warms up so you can still have the early blooms of an Autumn sowing. They give exceptional value for money too.
If you planted fruit trees last year you will need to begin formative pruning now, this simply involves the early removal of any weak or crossing branches in order to develop a sturdy framework. Choose the best three or four shoots to form the main framework of branches. Remove the top shoot, if it is growing too vertically, in order to eventually obtain the best goblet shape. Shorten the selected branches by about one-third to an outward-facing bud and remove any low branches. Established trees should be pruned to an open bowl shape allowing light and air to reach all branches, remove any weak or crossing branches. Protect early blossoms on Fruit Trees with a double layer of netting or fleece if frost is expected. Top dress around your trees with Organic Extra which contains essential trace elements and minerals which are released slowly to boost healthy growth and encourage lots of fruit.
Existing soft fruit bushes should be pruned in much the same way to maintain an open goblet shape. Remove last seasons' fruited raspberry canes and tie in new stems which will produce this years' fruit. Cover strawberries with cloches or fleece for an earlier crop
Over-wintered Green Manures should be dug in now while it is fresh and green. It will break down easier and quicker than if you leave it to get too tough. Chop it up as well as possible with your spade or go over it with a strimmer before digging in as this will help break it down - the finer the chop the quicker it breaks down and the better it will be for your soil. Green Manures suppress weeds and help prevent nutrients being washed out of the soil by rain and snow. They add humus and release nutrients slowly back into the soil over time, making them readily available to following crops. Avoid planting for 2 – 3 weeks to allow it to begin the process of breaking down from soft green plant material to wonderful life-giving humus.
After digging cover some areas of the veg plot with Fleece or with Cloches for a couple of weeks to raise the temperature and enable earlier sowings for extra early vegetable crops. Plan your crop rotation so that similar crops are not grown in the same space year after year. This will give a more productive plot and help to prevent soil borne diseases.
As you harvest your Spring Cabbages, leave some stem in the ground, make a cross cut on the top and you should get new shoots growing to provide more leafy Spring Greens. Keep cutting your Kale, if you take the leaves from the crown first you will encourage tender side-shoots to form which will keep the plants cropping for many weeks. Harvest Sprouting Broccoli in the same way and check it regularly as broccoli can put on a rapid growth spurt during mild weather. A top dressing of Organic Extra will give all your over-wintered vegetables a real boost to encourage further cropping.