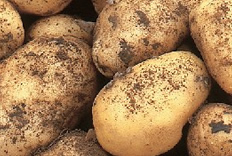 Begin chitting your seed potatoes once they arrive by placing them in a tray with the 'rose' end - the end with most 'eyes'- uppermost.
Keep them in a cool, fairly light position but avoid direct sunlight (don't put them in the dark - this will only produce pale spindly sprouts and weak growth).
Shoots will begin to form in a few weeks and the tubers will be ready to grow away as soon as they are planted. Do not plant before March in sheltered Southern areas or April for chillier parts of the country, unless you have warmed the soil and can give some protection against frost.