August Newsletter and Tatton Park 2013

Well finally we've got some summer weather, it seems like years since we've had a proper summer! I must admit that apart from a little bit of weeding and quite a lot of cropping I've enjoyed just being in the garden relaxing rather than working, I can't remember the last time we had several weekends on the trot that were nice enough to sit outside – last year the barbecue only came out once, this year it's on permanent standby!

Visiting the gardening shows this year has been an absolute delight (and a crafty glass of Pimms goes down a treat too when the sun's shining – but don't tell the boss!) I hope you are all really enjoying the summer and getting some well-earned r & r in the garden.

Happy relaxing
At the Tatton Park Flower Show

Set in the beautiful grounds of one of Britain's most historic estates, the RHS Flower Show Tatton Park is a superb mix of great gardening inspiration with the relaxed feel of a garden party (this is where the Pimms comes in)! As at Hampton Court this years Show at Tatton Park has been divided into four distinctive 'zones' each with something special to tempt and tantalise you.
Gardens to Grow, Feast, Inspire and Escape to!
'Feast' Zone-was a celebration of everything 'Grow your Own'! Taking you on a journey from small edible plots to the Great British Allotment area featuring allotment gardens from a range of diverse origins each plot focusing on different skills and expertise so plenty of tips and ideas to think about, whether you are a novice or an 'old hand'!
Of all the allotment gardens you might know I'd love this one! Great Eggspectations! celebrates everything I love about keeping chickens – not only the eggs but the hours of fun I get from their funny little ways (my husband says I have 'funny little ways' too!) Read my Chickens in the Garden blog for more! The raised beds on this allotment are planted with vegetables Such as Swiss Chard, Oriental veg such as Pak Choi and brassicas that chickens enjoy so they get to eat their 5-a-day greens too!
I also loved 'The Home Guard-ener' – showing the way families had to rely on their gardens to feed themselves during the Second World War. I loved the Anderson Shelter and outside loo (I can remember when my granny had one at the bottom of her garden)! All the plants used were authentic and available at this period in time.
From the old to the new - 'The Edible Medley' brought together a modern feel to sustainable gardening by creating a medley of both ornamentals and edibles in a setting that was modern with geometric shapes but softened by swathes of colourful perennials and billowing grasses towards the boundaries and neat rows of veg standing to attention at the front. I particularly liked the Thyme growing between the pavers
'Grow' Zone was the floral part of the show where you will find magnificent displays of plants both rare and familiar. There was a host of hands-on demonstrations where you could chat to leading nurserymen and RHS experts and spend your money on a whole host of must-have plants and gardening knick-knacks! 'The Industrious Force of Nature' garden's theme is the journey of a disused mill from it's industrial past to a crumbling ruin at the mercy of nature. The iconic wooden water wheel grasses and perennials bring a wealth of wildlife to this former wasteland - truly inspiring.
'Escape' Zonebrought the utopia of country and coastal living within our grasp. With over 100 artists and craftspeople it gave you a taste of the seaside. The Horticultural Arts & Crafts Pavilion contained a unique collection of botanical art, ceramics and jewellery for our delight. 'A Day at the Seaside' garden brought back the nostalgia of childhood day trips with sea, sand and dunes represented by tactile planting and superb use of texture and colour.
'Inspire' Zone pushed the boundaries of garden design with cutting-edge ideas and concepts. I loved 'The Star Gazer's Retreat' in this area which is a sedum-roofed observatory set in a woodland glade with nocturnal plants releasing their fragrance and stars reflected in the pool. Beautiful planting!

Whether you are a wannabe gardener looking for tips on gardening basics or a seasoned gardener just there for the sheer love of all things growing – it was all to be found at Tatton Park - so make sure you put it in your diary for next year!
August in the Garden
Time is moving on for ordering overwintering Brassica and Salad Plants if you haven't already sown yours you can play catch-up with our overwintering plants which have been sown and grown on so all you need to do is plant, water and watch them grow. They are perfect for fitting into those spaces where your crops have already finished. Winter and Spring Cropping Plants includes Broccoli Extra Early Rudolph Which will begin to crop in early autumn but is at it's best from November to February, it's a large framed plant providing masses of tender spears over a long period. Also available are Cauliflower Jerome, Savoy Cabbage Endeavour and Cabbage Mirabel a delicious January King type. Super Spring Cropping Brassica Plants is a selection of Cabbage, Kale and Purple Sprouting Broccoli plants that will give you the earliest crops next spring. Hardy Autumn and Winter Salad Plants contain some of the best Overwintering Lettuce, Endive and Raddicchio.
A selection of these plants will ensure that you have plenty to harvest during the spring Hungry Gap when fresh veg is at a premium. Delivery period for these is August.
Don't forget to order your Autumn Planting Onions Shallots and Garlic soon to make sure you get your first choice of varieties for the earliest crops next year. Onion sets root quickly in the warm damp soil in the autumn and should make a good size before winter. Autumn planting Garlic likes a period of cold weather which helps to initiate the side buds which will eventually swell to form the cloves.
Autumn is the perfect time for planting fruit, the soil still has some residual warmth and plants have time to settle in and make good root growth before winter ensuring they will be raring to go as days lengthen in spring. If you don't have fruit in your garden yet you are missing out on one of the true delights of summer. Peaches or Nectarines grown against a sunny wall take up very little space, they can crop really heavily too once established and have a superb flavour when eaten straight from the tree still warm from the sun.

Picking your own Raspberries and Strawberries fresh from your plot, the flavour of which just cannot be beaten, is a true English summer delight! There is a diverse range of soft fruit suitable for the home gardener and you don't need a large area either, Raspberries, Blackberries, Gooseberries and Currants can all be grown against a sunny wall or fence and Strawberries grow well in a large container, you just need to make sure they are well watered.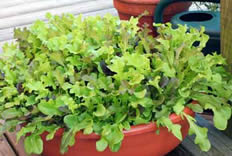 Keep sowing plenty of quick growing Salad Leaves, Spinach, Radish, Spring Onions and Baby Beetroot. Oriental vegetables such as Chinese Cabbage, Pak Choi and Mizuna come into their own now too. They are all quick growing in the warm soil and you can begin cropping while they are very young. Sow some Cut and Come Again leaves in a container on the patio they will grow really quickly and it's surprising how many feeds you can get from just one sowing – this bowl has already had a couple of cuts!
There are lots of vegetable for over-wintering that can be sown now such as Spring Cabbage, Kale and winter hardy lettuce such as Winter Density which has tender heads rather like a large Little Gem and Humil a tried and tested hardy butterhead variety. As the nights turn cooler (but not just yet we hope!) cover your crop with Fleece or a Cloche to encourage a longer cropping period well into the winter months.